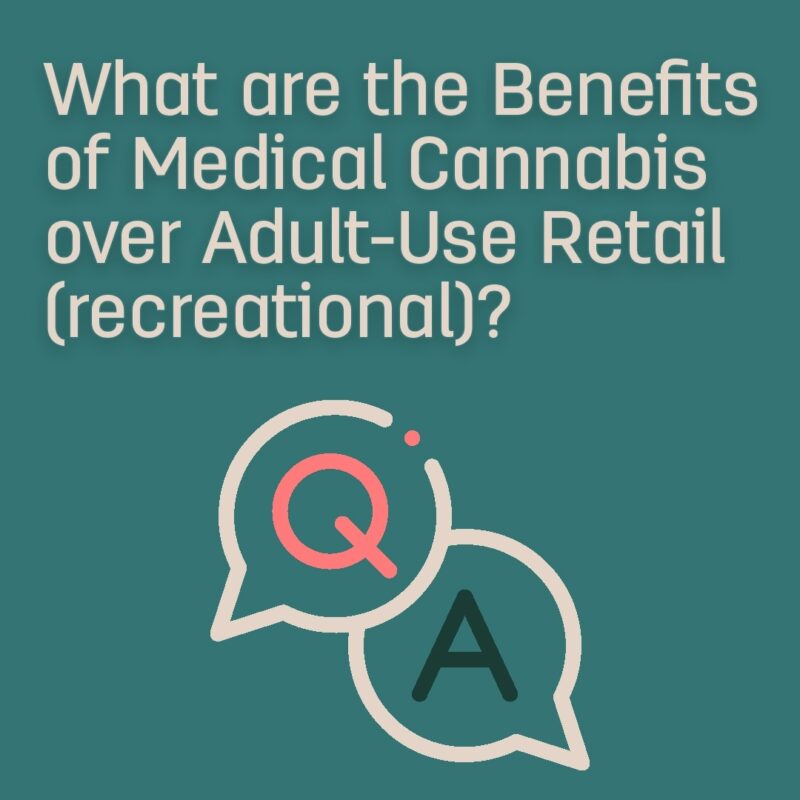 What are the Benefits of Medical Cannabis over Adult-Use Retail (Recreational)?
• Tax Deductible – Medical cannabis can be claimed as a medical expense on your income tax return.
⠀⠀⠀⠀⠀⠀⠀⠀⠀
• Insurance Coverage – Some insurance companies offer plans or health spending accounts to provide coverage to medical cannabis patients.
⠀⠀⠀⠀⠀⠀⠀⠀⠀
• Lower average price – The average price of medical cannabis is lower than adult-use cannabis sold at retail storefronts.
⠀⠀⠀⠀⠀⠀⠀⠀⠀
• Compassionate pricing – Many license holders that produce and sell medical cannabis offer compassionate pricing discounts based on a patient's income.
⠀⠀⠀⠀⠀⠀⠀⠀⠀
• Higher possession limits – Medical cannabis patient's possession limit is based on their prescription (if you are prescribed 3 grams per day, your possession limit would be 90 grams compared to 30 grams for adult-use retail cannabis).
⠀⠀⠀⠀⠀⠀⠀⠀⠀
• Supply commitments – Many license holders have committed to ensure that there is a consistent supply of medical cannabis products for patients.
⠀⠀⠀⠀⠀⠀⠀⠀⠀
• Personalized care plans – Every medical cannabis patient that has a consultation at one of our health centres receives a personalized care plan that includes product selection and a dosing plan.
⠀⠀⠀⠀⠀⠀⠀⠀⠀
• Ongoing patient support – We provide ongoing patient support to all patients that we see.